CLICK HERE TO SEND/RECEIVE MAILS ON-LINE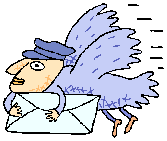 =>
Go Back to the Home Page

MailNigeria.com

---
To access your mail on-line, click the SEND/RECEIVE icon.
The login menu below will pop up.

Type your email address, then your mailbox ID, then your Password and click ok!
The next menu shown below will pop up listing all mails in your mailbox.

Click "New letter" to write and send a new e-mail.
Click "(De)select all" to select or deselect all mails in your mailbox.
Click the check box on the left of each message to select or deselect the message.
Click "Delete" to delete all selected messages.
Click on the message title to open the message for reading, replying and other activities.
Click "Log out" to exit the mail management menu.
Use backspace key to return to MailNigeria.com home page.
---